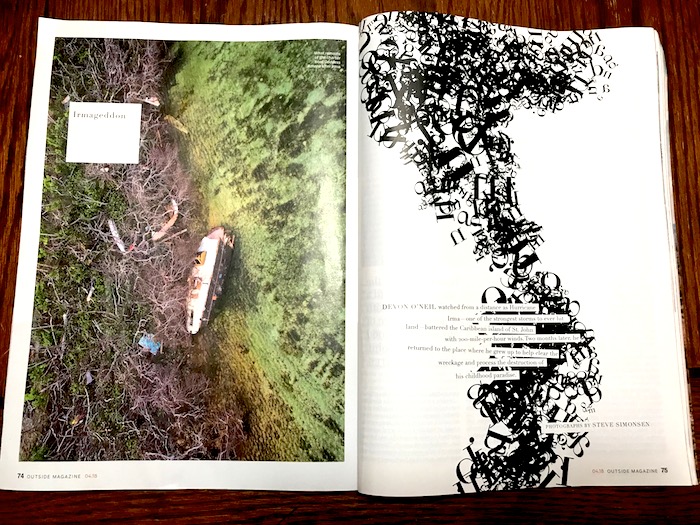 On September 6, 2017, Hurricane Irma, one of the strongest storms on record, slammed into the island where I grew up, St. John. I was pacing back and forth in my office in Colorado while it hit, watching the fireball of infrared radar, wondering what was happening 2,800 miles away. It took a few days before we learned the gravity of Irma's impact. Winds well in excess of 200 mph had annihilated much of the Virgin Islands, both U.S. and British. Our childhood home (which was still my mother's primary residence) was one of hundreds that the storm destroyed on St. John. No one had experienced anything remotely close to Irma's power.
I didn't know what to do for a while, but eventually my brother Sean and I formed a plan to fly down with some friends and take our home's ruins down to their foundation. The trip got postponed due to a second Category 5 hurricane, Maria, which hit two weeks after Irma and dropped up to 38 inches of rain in 48 hours. But eventually we made it, and we spent the week swinging sledgehammers and taking apart our home board by board.
I returned two weeks later to report from St. John and throughout the neighboring British Virgin Islands, where we'd often sailed as kids, for a feature titled "Irmageddon" that ran in the April issue of Outside magazine. I got chills during almost every interview as locals told me how they survived, sometimes narrowly. The lone St. Johnian to die during the storm, well-known charter captain Richard Benson, had a story that bordered on mythical, I learned from his son, Daniel, and fellow sailors. The entire experience left a mark on my soul and career that I suspect will remain forever.
I took photos to record the journey and am including some below. You can find the story on my writing page or at this link:
https://www.outsideonline.com/2288241/irmageddon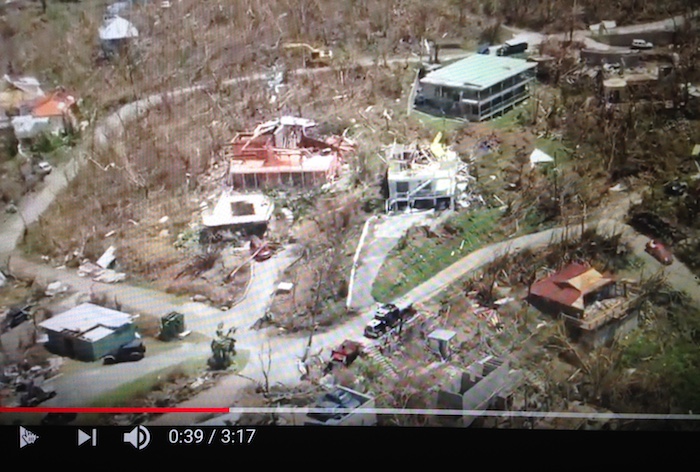 This was the first view we got of our house (the white one): a YouTube video shot by Caribbean Buzz Helicopters and posted a few days after the storm.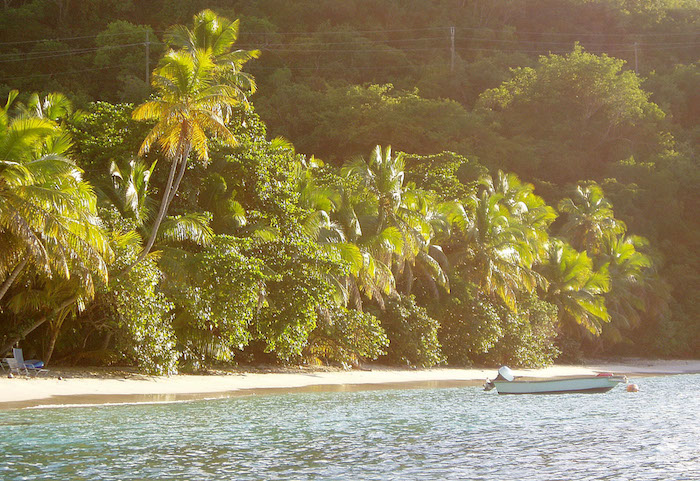 Gibney Beach before Irma, with some of its famous coconut palms.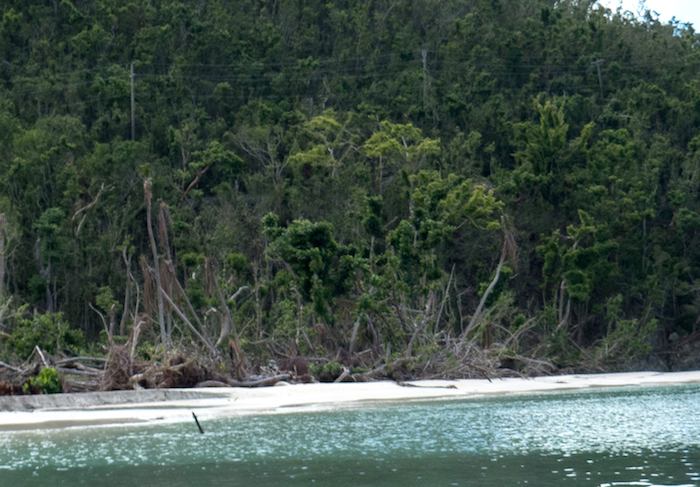 Gibney Beach after Irma. Same site as the "before" shot, as you can see from the telephone poles.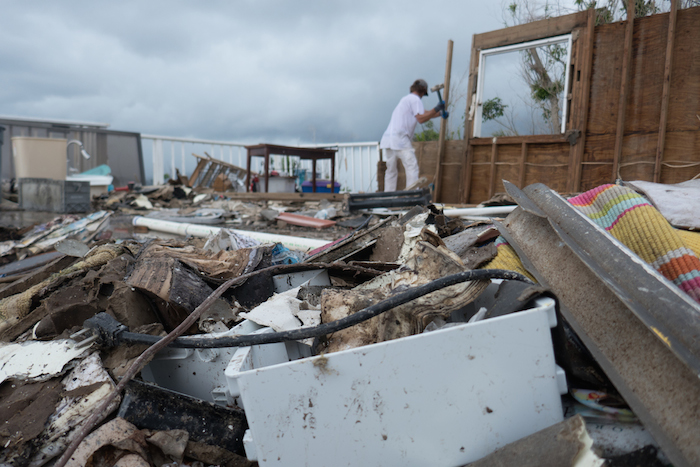 Our childhood friend Galen Stamford breaks apart our home's north wall on Day 1.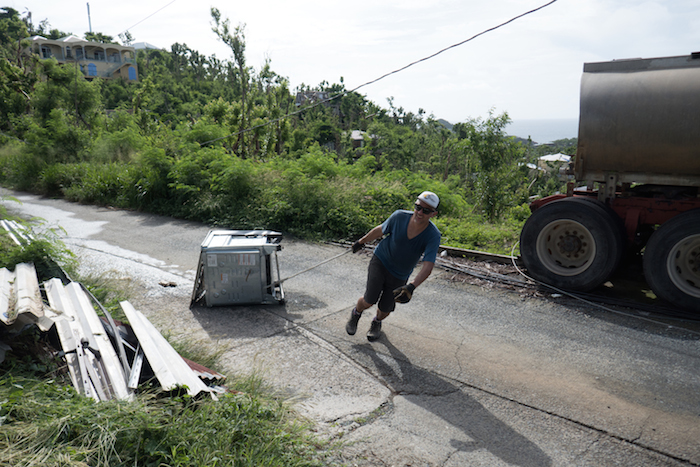 Among our crew, we had a retired elementary counselor (Rich Enns), a retired avalanche forecaster (Scott Toepfer) and a master appliance repairman (Jeff Tarczon). Here Jeff drags our old stove down the road to the metal heap. We're still hoping he uses this image for his next business card.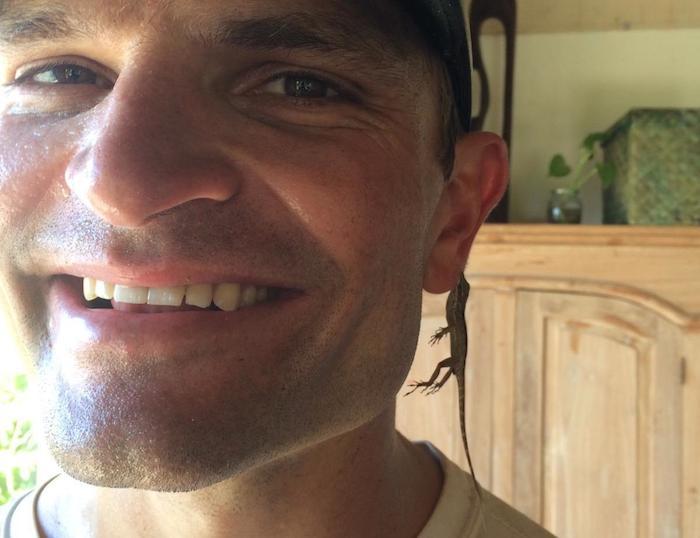 Geckos love to grab your ear and hang out for a while. Photo: Scott Toepfer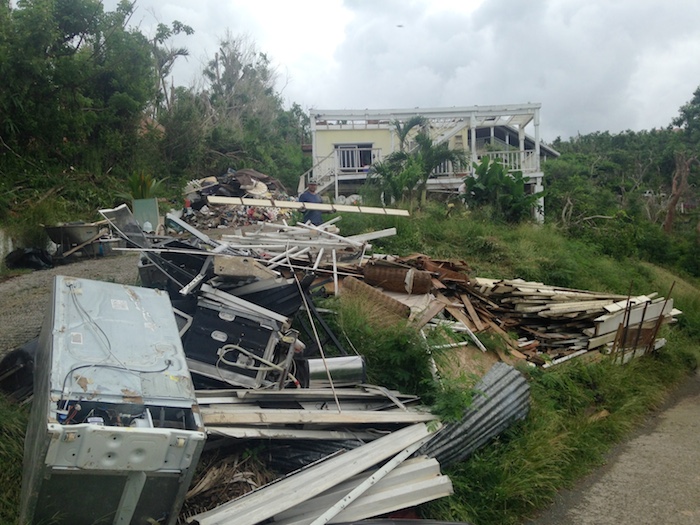 To make it easier on the crews that eventually drove around the island collecting everyone's piles of rubble, we stacked our wood, metal, and more wood within 10 feet of the road. We also filled two 30-cubic-yard dumpsters with trash. Here, Sean humps a deck beam down the driveway.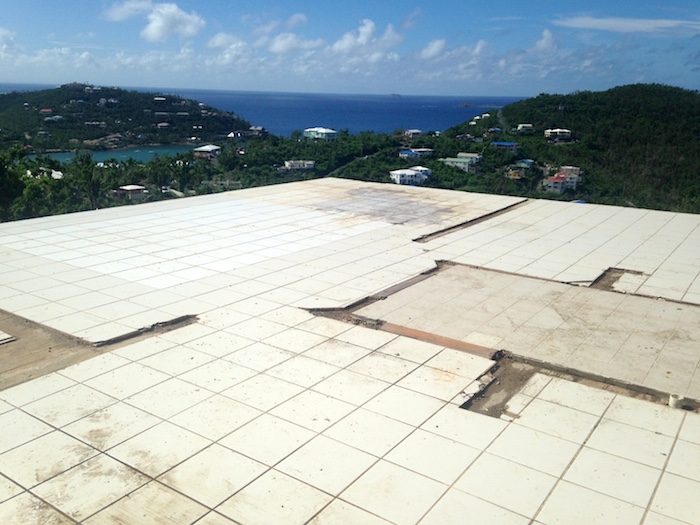 We grew up sleeping in the room from where this photo was taken. The 640-square-foot unit seemed a lot smaller without its walls and roof.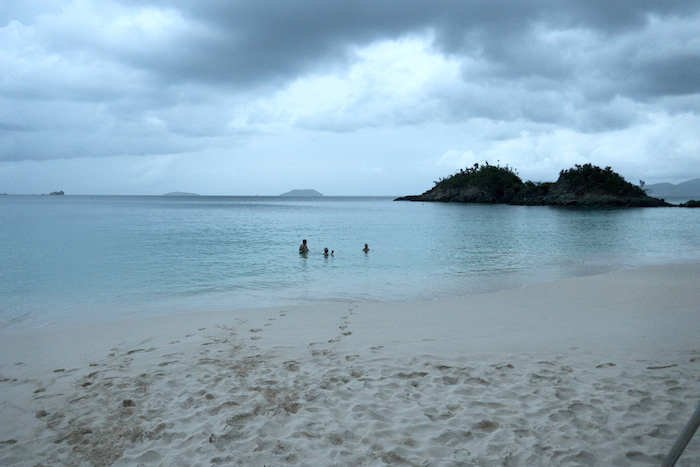 As hot and hard as the work days were, they always ended with a cool-down swim at dusk. We alternated beaches so the guys could see as many as possible. This was the scene at Trunk Bay, usually the most crowded spot on island but, like everywhere in the wake of Irma, completely empty that week.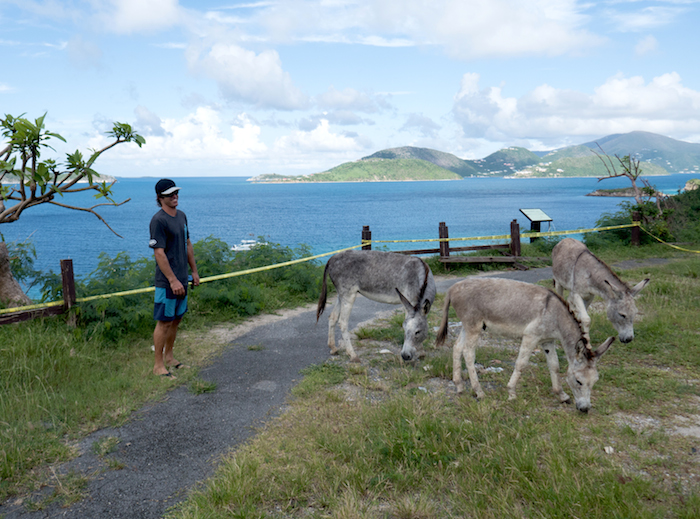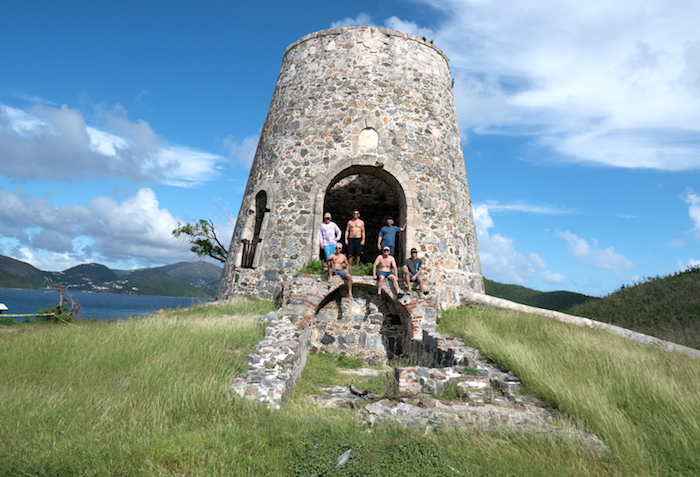 On our last day, after finishing the demolition, we took an island tour and stopped by the Annaberg plantation for some donkey socializing and a group photo.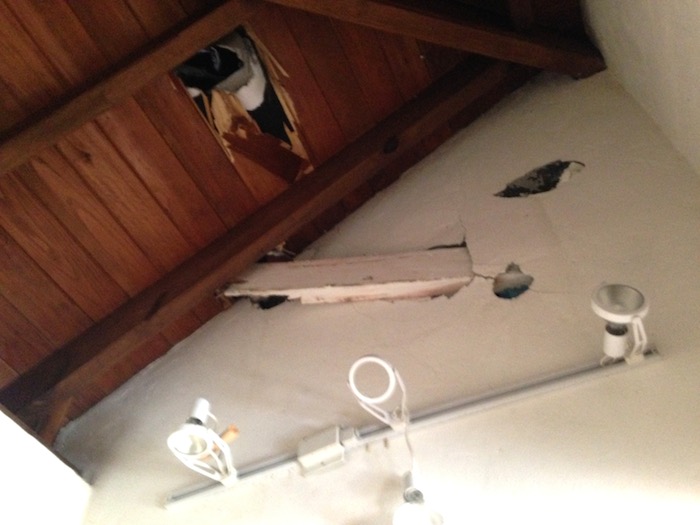 My first interview of my second trip, in late November, was with Carlos Di Blasi. Carlos' roof got pierced by more than a dozen large beams ripped from another house a quarter-mile away by a tornado. Think of how fast this one must've been moving to lodge in his plaster wall at such a tiny angle. He and his wife decided to leave it there as a reminder that they and their sons survived.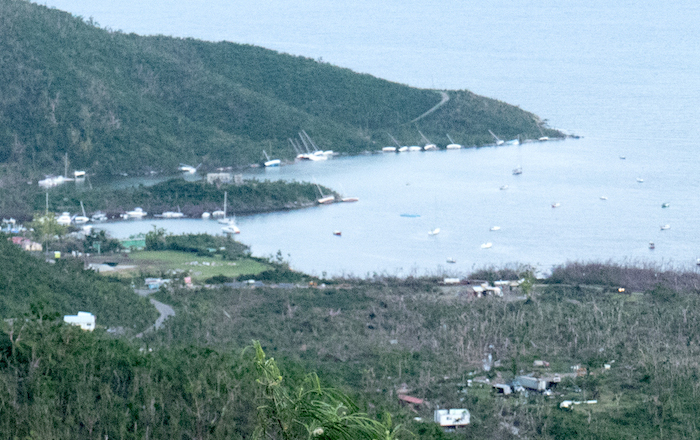 We moored our sailboat Yahoo in Coral Bay when we were 6. This is what Coral Bay looked like two months after Irma, which left more than 500 shipwrecks across the territory.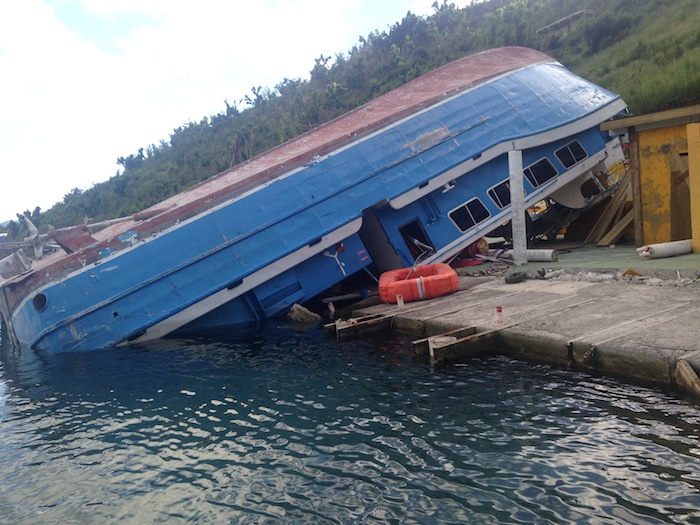 Growing up, Sean and I always wanted to work on the ferry boats that we took to school on St. Thomas. The Bomba Challenger was one of our favorites, so it was especially wild to see it -- a nearly 200,000-pound vessel -- flipped upside down on Jost Van Dyke.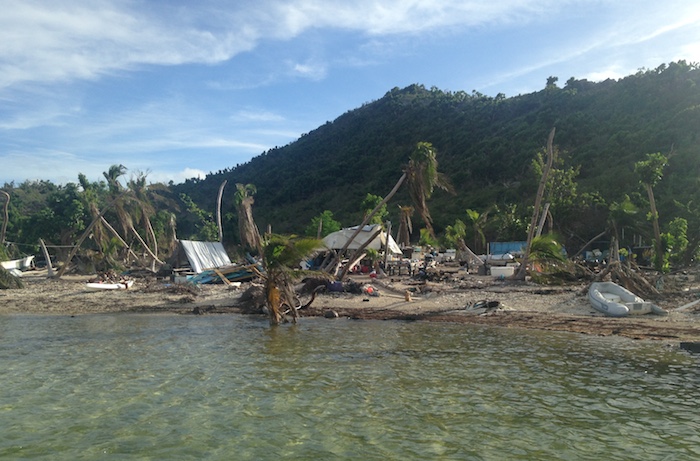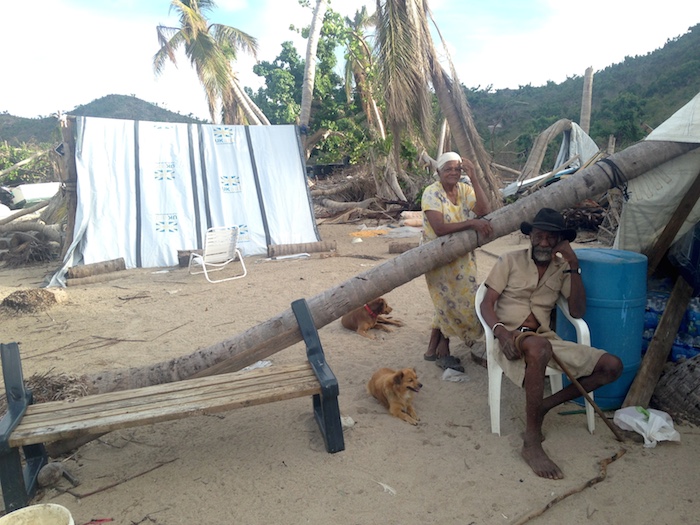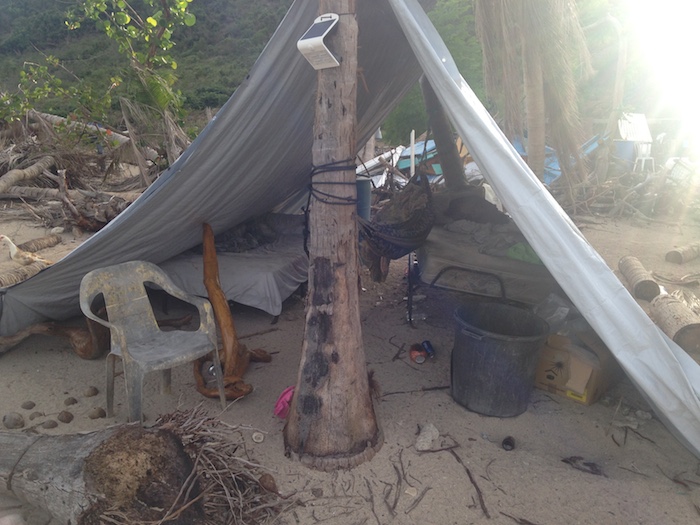 I saw a lot of crazy things during my two weeks in the VI, but nothing so moving as what photographer Steve Simonsen and I found on tiny Cooper Island. We ducked into Carol Bay at the last second to see what became of this old West Indian fishing camp. A 90-year-old Cooper native named John Leonard and his 84-year-old wife, Jean, welcomed us cautiously then explained how they survived Irma in the elements after their house broke apart. They slept outside for a week after the storm, exposed to vicious downpours, until the Royal Marines built them a makeshift tent by draping a sail over a coconut tree.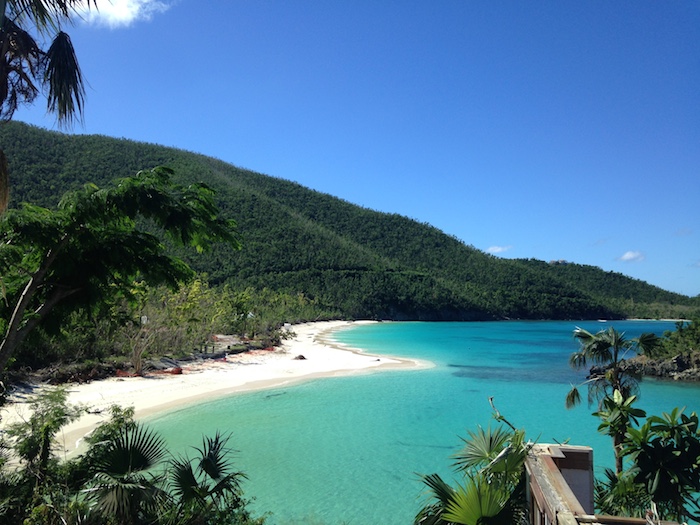 This was Trunk Bay in late November, photographed from a gutted National Park Service staff house. The beach lost 30 feet of vegetation and gained as much in sand from the storm. Despite the changes caused by Irma, I've still never seen anywhere as beautiful as St. John, and I doubt I ever will.